Dr. Ashish Ghosh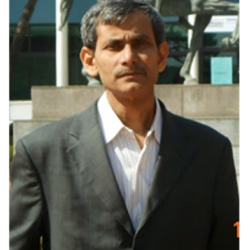 Starting as an electronic engineer (1983-'87), Prof. Ashish Ghosh moved to computer science during his master's (1987-'89), and finally to Artificial Intelligence (AI) during PhD (1993).  Completing post-doctoral research in Japan (1995-'96), he joined as a faculty member at Indian Statistical Institute (ISI), Kolkatta (1997), now a full professor, and contributing immensely to the field of AI, machine learning, image / video analysis and data science. He has already published about 250 research articles on these subjects.
For his pioneering contribution, he earned Young Scientist award from Indian Science Congress (1992), Young Scientist Medal from INSA (1995), and Young Associateship of Indian Academy of Sciences (1997). For his excellent service to IEEE, he received IEEE-GRSS Regional Leader Award (2019).
He visited various Universities / Academic Institutes in connection with conducting collaborative research / projects, deliver lectures and also serve as plenary / keynote speakers in many international conferences in different countries. He also disseminated seminar lectures and conducted several workshops / short-term courses in different parts of India. As PI and Co-PI, he completed eighteen sponsored projects.
He is a member of the founding team that established the National Center for Soft Computing Research at ISI, Kolkata in 2004. He acted as the In-charge of this Center for ten years that has been recognized as an Associate Institute of ISI during 2005 - 2019. He served as the Head of Machine Intelligence Unit of ISI during 2013 - 2014 and 2019 - 2021. He is also nominated to the Academic Council of Banasthali Vidyapith as an Eminent Educationist.
He is currently leading the Data Science Research consortium project as the Theme Coordinator and is the Principal Investigator of the Technical Innovation Hub on Data Science established at ISI, Kolkata. He is an Associate Editor of several International journals.